North Dome '69. Matt Pollock, Luke and Darwin
Matt Pollock, Luke Freeman and I did the regular route (South Face) on North Dome in the early spring of '69. It's rated 5.7 and had been done many times before our ascent.
Matt and Luke were 14 years old, and I was the oldster at 15 when we did North Dome. The route must have been an obvious choice in that it dominates one end of the Valley and that it was rated pretty moderately even for back then. You know the sequence: Harry-Daley, Sunnyside Bench, a couple of other Apron routes, Church Bowl Chimney/Bishop's Terrace interspersed with routes at the Pinnacles and then, heck, North Dome.
I met Matt and Luke at Indian Rock soon after my family moved from San Francisco to Berkeley the year before. I had already lived in Ann Arbor, Denver, San Juan (P.R.), Menlo Park and San Francisco, so I was pretty good at moving into new environments but needed a focal point, especially as a young teenager in a new city. We lived within walking distance to Indian Rock, and with just a little previous "outdoor" experience caving and backpacking, the Rock became that focal point for me. I made friends there before I made them at Berkeley High School, and the closest and first of those friends were Matt and Luke. They also lived within walking distance of the Rock.
The year of the climb turned out heavy for at least me and Matt. Berkeley was boiling with strife in the late 60s, and we three and our friends were going to Berkeley High, and, um, sometimes we and the Berkeley police didn't always behave in an exemplary manner. Matt and his family were about to sell the house and buy a sailboat and then sail the South Pacific for a year. At the same time my mom was quite sick and passed away from cancer just a few months after we did this climb. Matt was the one new Berkeley friend that I remember who responded with a condolences when my mom died. Being a boy in 1969, it was "that's a bummer, I'm sorry", but it meant a lot to me and I still remember it. Matt was a singularly upstanding person his whole life, unbelievably so even as a high school boy. Matt passed away in a commercial fishing accident in January of 1996.
Luke and Matt were unquestionably the stronger climbers, and they both went on to put their stamp on West Coast climbing in the 70s and 80s. Matt's brother Bruce, for those of you who knew him, didn't climb at this time. North Dome turned out to be too difficult for me to have fun on at the time, but it nonetheless was a watershed climb for me. Before and during North Dome I was mostly too scared and uncertain to have fun on climbing, and to this day I'm not sure why I continued climbing up through that period. Afterwards I just had a better feeling for my feet and the rock, and climbing DID become mostly fun and wasn't just something I did just because I needed to.
We hiked up the descent gully from the Valley the afternoon before. I had read just enough mountaineering books to think bivouacs were cool, so I didn't bring a sleeping bag. I was also way fucking dumb about hypothermia as evidenced by my cotton long sleeve shirt and the snow on the surrounding peaks. Rain gear? Na, and this was March or April and North Dome is 7500 feet. We brought some water (see photo below), but really, almost all of us were dumb about hydration bitd.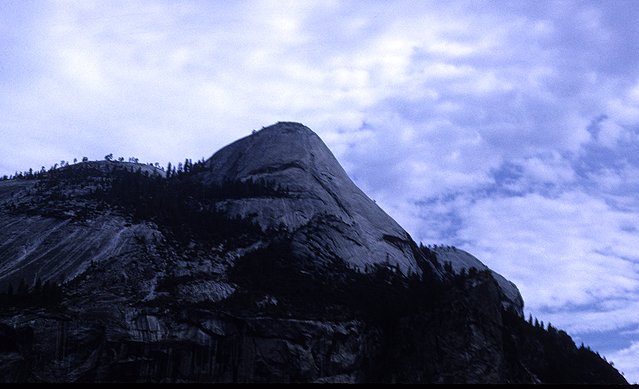 The Approach (click to expand)


Matt and Luke on the approach.


Matt all tuckered out at our bivy spot and Luke scoping
out tomorrows climb. Note the high-tech water bottle.



Fire for the bivy

Looking up towards basket dome.



Halfdome at sunset.

Mt Starr King the next morning.
The Climb
For the climb we had a Goldline and Luke's super cool Mammut rope. We tied in to lots of wraps of 1" tubular webbing around our waists. Matt was in Cortinas (boots for those of you born after 1959 or so), I had Kronhoffers that I got on sale from the Ski Hut in Berkeley. I don't know what Luke climbed in, probably Pivetta Eigers. ;-) This was all protected by pitons, but I want to mention to the youngsters out there that (1) we didn't have many pins 'cause they were pretty spendy for high school kids even in Berkeley, and (2) there's nothing like putting-in an pulling pins when you're pumped on a free climb on a tenuous lieback.
It's weird but I remember very very little of the climbing. But for what I see in photos, I couldn't tell you who led what. People who have climbed it recently mention chimneys, but I don't remember those. Matt and Luke must have led the upper lieback pitches, and I vaguely remember my arms being totally pumped and that part of the climb seemed really really hard I think it's indicative that there are no photos of those pitches. I was probably too gripped to take photos, and it probably seemed like a bad idea to spend the time. I can't remember the descent other than that when I got to the Valley it was dark and my sleeping bag had gone back to Berkeley, and I worried about it being stolen. It wasn't.
(click to expand)

Me on the first pitch.

Luke on the first pitch.

Matt Leading

Matt Pollock

Matt Pollock

Luke Freeman

Luke on the summit

you guess

Looking down the Valley late in the day.
I finished high school a year early and spent the fall of '70 in the Valley. I got to climb with Peter Haan during that fall and picked up a little technique for climbing wide stuff. Then by the fall of '72 Matt had finished high school and I took a quarter off from university to go back to the Valley. Matt his brother Bruce and I shared a site in Camp 4. It was a blast, but the time there seemed way too short. It ended with me dislocating my shoulder on a FA reconosence with Matt and Charlie Porter on a climb taking off to the right after the first(second?) pitch of Vendeta. We did a lot of the easier classic wider stuff, Briale Brook, Reeds Tripple Direct and other climbs I don't remember. Bruce led the second pitch of English Breakfast crack and protectected it with pins, and I remember despairately hanging on to clean it without tension. It was a darn good lead by Bruce on a pitch that was despairate for him and more so for me. We barley notice the first pitch. Bruce and I also tried the Gold Wall. We were short on water and bailed after a bivy below an imposing looking corner and roof. I've climbed harder routes by grade since then, but I've never been close to feeling so comfortable just moving over the rock. After my shoulder had healed a bit and just before I decided to go back to university, we all drove down to Porter's shop in ?Midpines? and we all weighed in on me going back. ...
With my hurt shoulder I dropped out of climing for a bunch of years. It bummed me out completely when I would be doing something and it would pop. I finished up undergrad at Humboldt State and got a job with Adlai building houses. I lost track of Matt and Bruce for while during that period, and some of you at Supertopo could proabably fill those years in the better than me. I think for a couple of winters they shoveled snow at Squaw Valley. I know they were pretty close with Chapman and also Werner. During that time they ticked some pretty good first ascents including two that I've done but not led. Jojo at the base of W. Column is one of the best one pitch moderate, not that I did it clean, cracks in the Valley. They also had some first ascents at the other end of the Valley in the Little Wing area.
During that period Matt and Bruce started commercial fishing. If I remember correctly, they started on their dad's boat, got tother the money to buy a boat between them, and then bought a boat each. ...

Jumping Ahead
Here's a photo of the three of us in 1994 or 1995 at Matt's house in Chimicum Washington. Matt's seated on the left and Luke on the right.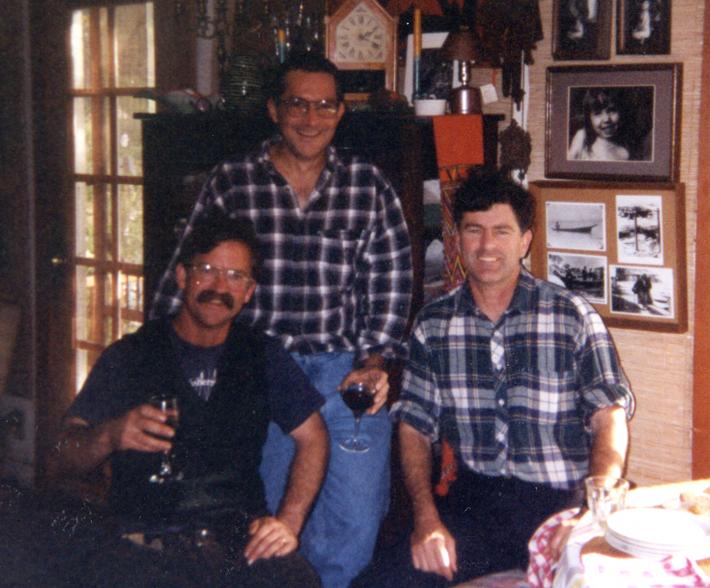 These next two photos were taken a couple of weeks before Matt's death.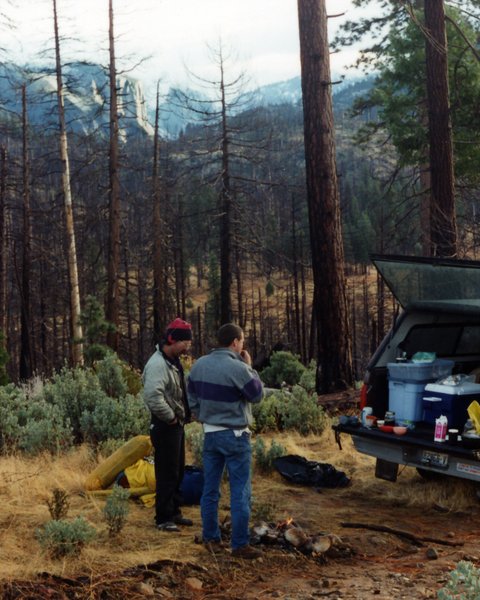 Matt and Adlai in Foresta during the government shutdown in December 1995.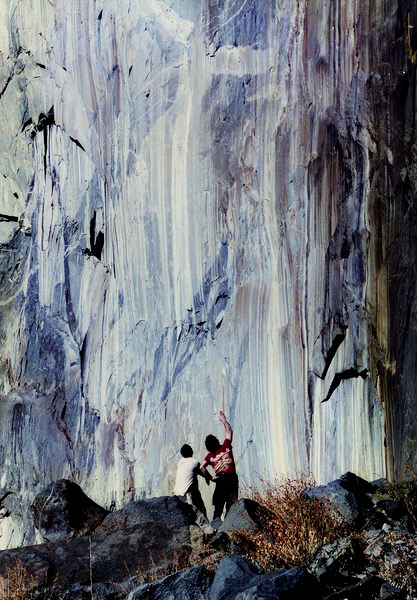 Matt pointing out routes on El Cap to Adlai (Dec '95)
(click to expand and alternate color balance)