A Little Wall in Western Washington
After a Sunday of good cragging, Mark and I talked ourselves into doing a 5.9 C2+ grade IV in Western Washington. Neither of us had any significant multi-pitch aid experience in recent history. Before 1972, I had nailed a couple of fairly short aid climbs the Valley. I did one of the (at that time) aid routes on Rixons Pinnacle, and Bruce Pollack and I backed off The Gold Wall after spending an pleasant (really!) full-moon lit bivy on the ledge at the top of the 4th( 3rd?) pitch. Since the Valley, I had soloed one C1 aid pitch a few months before and convinced myself that I could do a longer aid climb. Mark had been practicing a lot on some of the local clean aid pitches and had gotten pretty quick. Mark and I both took it seriously enough that I went up to his house Tuesday night so we could rack up and then get an early start the next morning. I was shocked by the huge sophisticated rack that two chronically employed middle aged professionals (yes, sob, it's true in my case, Mark's too young) could amass.
We were out the door 5:00 the next morning and at the parking lot at 6:30. It was early enough that I can't really remember if I was nervous. The climb starts with two free pitches before it turns to aid on the remaining pitches. I felt good on my lead of the second chimney pitch and went fast and placed good but fairly sparse protection. Actually, that is sparse for me, most would have considered it well protected.

Mark led the short 3rd pitch (the first aid pitch, with pendulum). He aid climbs fast and confidently on the easier ground. He may have been a bit uncertain on the pendulum, as he had never done one before. Once he was done, it seemed to take me forever to get the belay broken down so I could start cleaning the pendulum pitch. In all my time in Yosemite and time spent jugging, I don't think I ever cleaned a pendulum on Jumars. Over the last few days, I had been pouring over Long's "Aid Climbing" and thought I understood the Duecy method. Still, I hadn't practiced it. I had one conceptual error to straighten out: knotted vs unknotted second attachment to my harness. I erred on the side of caution and first incorrectly tied a knot where I should have just let it run through a harness biner. I was basically fighting the tendency to knot and tie off anything and everything I could see. After convincing myself at the pendulum that I wasn't just unclipping and jumping, the cleaning went well and fairly fast. Nonetheless, I was a little wigged out by the pendulum cleaning technique.




Chimney Pitch
So now it's my lead up the steep "3 tiered overhangs" 4th pitch. The sun had hit, it was getting hot, and I was still a little wigged by by the pendulum and the imposing (too me) upcoming pitch. I started off really slow and tentative, and Mark politely offered, and I gratefully accepted, suggestions about the efficient sequence of movements. Some times, it may not good to butt in and offer advice, but this was a good time. Anyway, after a shaky and tentative start on this pitch, I slowly began to get in a groove. There were some slightly loose blocks in the beginning, but it turned out that the overhangs had mostly fixed pins. For little old 5'6" me, there were a couple of long reaches, but nothing really outrageous. There was one marginal placement on a vertical section near the end (very shallow blue TCU, probably a good spot for a big copperhead). From this I had a short reach to a bolt that ages ago had the diameter of a nail but had rusted down near nothingness over the years. After those moves, I reached over the final tier/roof (about 16") to clip yet one more solid fixed pin a couple of moves from the anchors. At this point, I was beginning to get really hot and thirsty, a perhaps a bit dazed. I know that its a lame excuse in a climbing area not far from Seattle (especially in light of Brutus' epic), but it was 80 F and directly exposed to the sun. So, right at the lip of the last overhang and on the second to last aid move of that pitch, I bent back to retrieve my aiders and drop my daisy chain from the previous placement.
my hands do the opposite.
i watch the aider go down and down and down,
kiting a long way down, falling freely through the air.
hum.
It was no problem getting to the anchors at the second hanging belay in a row, but now I was bummed, and I lost a lot of the confidence that I had built up over the latter part of the pitch. But it was only 12:30, so were still in good shape. I swigged some much need water.
It was mfker for Mark to clean, especially the first traversing section off the belay and then the overhangs, too. He didn't seem too worried that his partner just dropped half his aiders, but I was still way bummed. The next short pitch went up a clean steep wall to a weird slot to the base of another weird deep flaring slot (about 14" deep, flaring from 3-8 wide"). Mark led up to the second slot but wasn't sure whether to belay there, or where the route went, and whether, given how much I TALK about my love of wide cracks I should just be sent to scamper up the thing free climbing. I really do like wide cracks (didn't say good at them), just not that far off the deck with all that stinking aid gear (and I actually want to do the Salathe?, right! ha ha ha). We decided to break the pitch up there, and I headed up to his belay. At this point Mark didn't see how he was going to aid it, and actually due to the wicked shadows and contrast, he couldn't really see anything inside the slot. He suggested that I might lead it, but given the vertical and slot-like nature of the belay, it was going to be hard for me to come through for the lead. But, honestly, I was pretty freaked for all the reasons that tired thirsty people who are a bunch of overhanging feet off the ground on an exposed wall and who just watched their aiders sail away through space might get freaked. I had stopped having fun. I thought,

i'm not going to do this any more, stick to cragging,
shit toproping, that's where it's at.

Although I didn't take the lead, I tried to keep up a pretty good facade and think I partially succeeded (although, you should see the self portrait photos taken at this belay). Mark's first few moves in the slot were pretty tentative, and I actually mentioned that we could rap (me, still freaked). No way Mark said and continued.

good. even i think it's good we're going on.
| | |
| --- | --- |
| The sun went behind the cliff at this point, and that brought on some blessed relief from the fiery orb and allowed Mark to see into the slot better. So he continued on up the slot and started finding aid placements in the back, reached the overhang with fixed pins, and finally got to a bolt ladder (more of those manky rusted nail bolts a long way apart). | Second Overhang |
After the slot, he moved up pretty fast, although he maintains he started getting pretty tired right about then. With the shade, the rest at the belay, and a sip of water, I snapped out of my funk. Cleaning the slot and the jug up to the anchors turned out to be easier than I feared, and I was pretty cheery upon arrival there. It was our fourth hanging belay in a row, although the first and last had a bit of a stance for our feet. The next short pitch, which looked like it was to be the last, had interspersed aid and free moves protected by ancient bolts. The angle had backed off from vertical, and my mood had improved so much that I actually had fun pulling up through one mantle above a pretty bad bolt, even with the aid rack on my back. Two free moves and one aid move after the mantle brought me to some dirty ledges. Mark followed and then led up a 4th class dirt filled gully. We got to the top in just in time to see alpen glow and moonrise out east over the Cascades (hackneyed image, but true), and despite the pending hour+ walkoff, we were really really happy.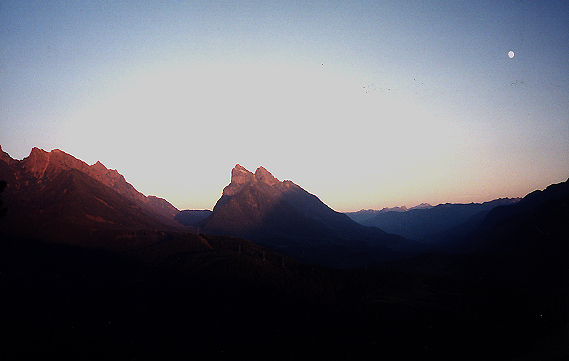 Darwin